One result of the worldwide pandemic and the accompanying restrictions on social interactions and commerce was an explosive growth in ecommerce sales – up 44% over 2019. This is on top of a 15.1% increase from 2018 to 2019 and takes online retail sales to a point that would not have been reached until 2022 under normal circumstances.1
Multifamily properties faced an unprecedented number of packages coming to apartment homes as more people worked from home and avoided shopping in traditional stores. "In 2020, we saw a 27% increase in package transactions over 2019," says Donna Logback, Marketing Director for Package Concierge, a secured locker solutions company. "It was like Black Friday every day."
Fetch, a package solution that receives packages offsite and delivers directly to residents' doors, also experienced significant increase – averaging more than 10 package deliveries per user in May 2020, which surpassed online holiday shopping levels for 2019. The volume continued to grow, with deliveries in December reaching over 471,000 packages – a 42% increase in volume versus November and a 320% increase year-over-year.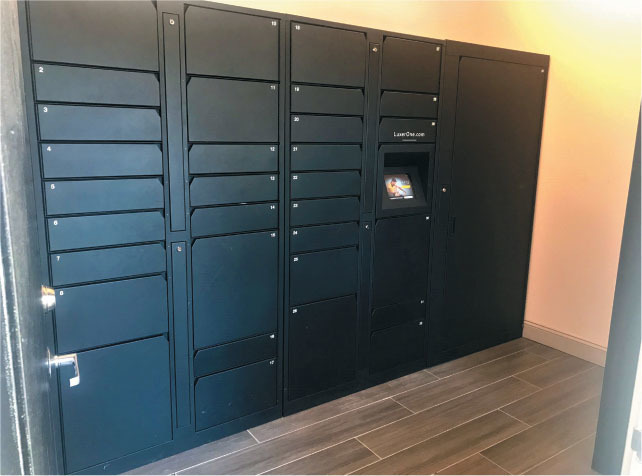 PHOTOS COURTESY ATLANTA PACIFIC
Properties that were handling their own receipt of packages and notification of residents typically spent 35 hours each week managing packages but the task became overwhelming during the pandemic, says Jen Chestnutt, Vice President of Marketing for Fetch. "Due to the pandemic, many properties were forced to either stop accepting packages or found their package management systems overrun by the unexpected volume," she says. "Those that continued accepting packages had to find ways to limit potential exposure as onsite team members sorted through packages and distributed them to residents."
Of the 20 metropolitan Atlanta properties managed by Atlantic Pacific, the majority have package locker systems that enable carriers to put packages into secured lockers for residents with no interaction with onsite staff, but there are a few that had been accepting packages prior to the pandemic, says Ginger Ashton, Director of Regional Operations. "We had to stop accepting packages in the offices, which meant notifying residents and carriers to let them know to deliver to the apartment home's door."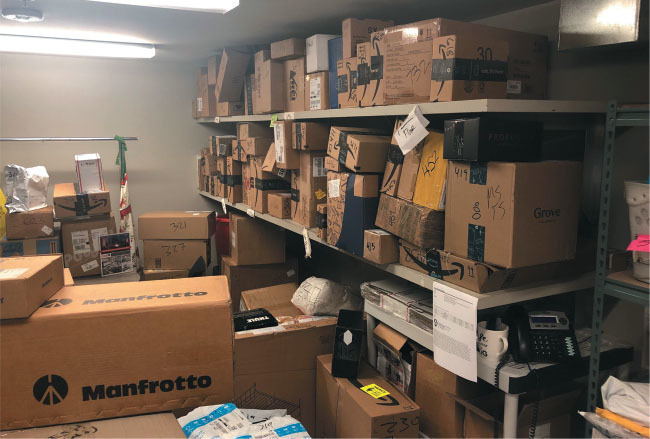 Asking carriers to go to the individual homes was easy because all of the properties without package lockers are garden-style apartments, so the carrier only has to go through one gate to reach the apartments. Most residents liked the packages brought directly to their door, but there were some issues to overcome, says Ashton. "The U.S. Postal Service would not deliver packages to the individual home in some locations," she says. "Managers tried to reach local post offices to discuss the issue but it was difficult to reach anyone." In these cases, office staff accepted USPS-only packages, she adds.
Eleven of the 23 properties in her region, which covers North Carolina and Georgia, have package locker systems and four others are installing them, says Ashton. "The main problems were residents who were not notified that their packages had arrived, so they would call the office, and we would have to tell them to call the carrier because we don't have access to that information," she says. "The package lockers worked well for us, with no big issues related to increased volume, which might be because people were home to get the packages as soon as they received the notification." When people were not working from home, they might take a day or two to get the package, which could have created problems during the pandemic, she adds.
When team members are accepting packages, they have more opportunities to engage with residents, but there are also disadvantages, says Ashton. "There is never enough storage space in an office, especially if you are keeping packages until residents pick them up, and it is a lot of extra work for the staff," she says.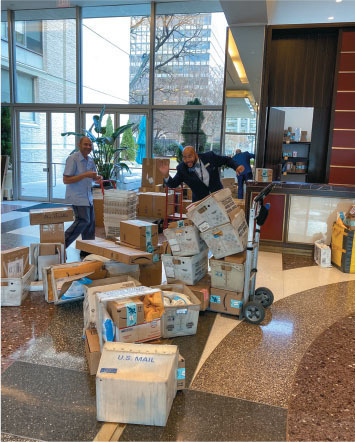 Because office staff members were no longer seeing residents as they came into the office, which gave them a chance to remind people about renewals, take maintenance work orders residents forgot to enter online or just to say hello. "We make an extra effort to reach out by phone and email, and everyone walks around the property to be visible and to reach out to residents informally."
While multifamily property owners and managers scrambled to find short-term solutions to the package problem, many are now evaluating all of their options for the future.
"We did look at providing door-to-door package delivery with our staff, but it would have required adding additional staff," says Ashton. "We are adding a package room to some sites that include a package scanner outside of the room for the carriers to scan in packages." After carriers scan the package, residents receive a code that they use to enter the package room to retrieve their packages from the shelves, she explains.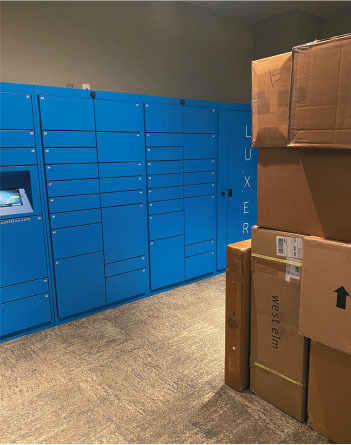 In Los Angeles, some properties re-purposed their valet staff, who were no longer needed to park cars due to COVID health restrictions, says Logback. "Other properties found a way to add package rooms – nooks and crannies that were not being used." Some of those unused spaces included onsite gyms, community laundry rooms or other amenity spaces that were not open to residents due to health and safety restrictions.
Moving forward, multifamily owners and managers need to consider another trend that will affect the number and type of packages arriving at the property, suggests Logback. Younger millennials who were just graduating college or were in early stages of their career when the pandemic began delayed moving out of their parents' homes or returned home due to layoffs or uncertainty about employment, she says. "As the economy recovers, there will be an influx of these younger residents," she points out. "This group orders online – including larger packages such as mattresses, furniture and staple items – on a regular basis," she says. "We expect this trend of receiving more packages – and larger packages – to continue to be the norm."
To address this ongoing package receipt and delivery issue, Logback suggests focusing on processes and solutions that promote operational efficiency. "Find ways to automate as much of the process as possible to free onsite staff to focus on revenue-producing activities such as renewals and new leases," says Logback. "Investing in a streamlined process now will produce dividends that will be realized quickly in the future."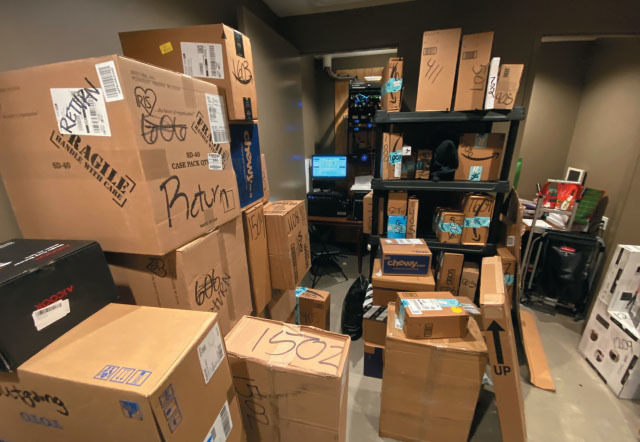 Multifamily property management were overwhelmed by an influx of incoming packages over the past year. The images here capture the chaos and disorganization when a short-staffed leasing office couldn't get the packages to recipients fast enough.
To determine the best way for packages to be handled on a property, look first at how many packages are received daily and weekly and assume a 13% growth year over year, recommends Chestnutt. Then, look at the demographics of residents to help determine future behavior that might require services out of the norm – extra large packages or packages that require refrigeration.
"One in five residents say that package management on the property is the most important amenity," says Logback. "It takes about four minutes of staff time to accept and log a package, then notify the resident and deliver the package – time that is multiplied by 80 or more packages a day received on some properties." She adds, "That is why it is so important to look at ways to streamline the process with automated solutions that can provide a better experience for both the resident and the property."